We take great care in the manufacture of our products. If you believe the footwear you have purchased from one of our approved resellers contains a manufacturing fault, and you wish to make a claim under this warranty, you must return the footwear (at your own cost) to the place of purchase for assessment. You must also have your original receipt and make this claim within six months from the date of purchase.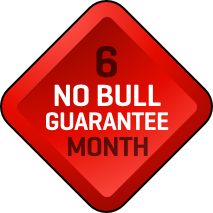 If following such assessment, we determine that the footwear contains a manufacturing fault that renders it unsuitable for the purpose for which it was originally purchased, we will replace or repair them at our expense.
The warranty is void if you have used the footwear in a way that has caused damage to them beyond normal wear and tear. This includes, without limitation, the exposure of the product to caustic materials that may cause the footwear (or parts thereof) to break down.
Any benefits you receive under our 6 Month Manufacturer's Warranty are in addition to others rights and remedies that you may have as a consumer under a law in relation to the footwear to which these warranties relate.
NOTE: Hydrolysis (deterioration through moisture) can occur when PU is stored or used in warm climatic conditions. If stored for an extended period, footwear should be kept in air-conditioned premises. Failure to observe these precautions can lead to premature deterioration. The date of manufacture is marked on the end of the box.